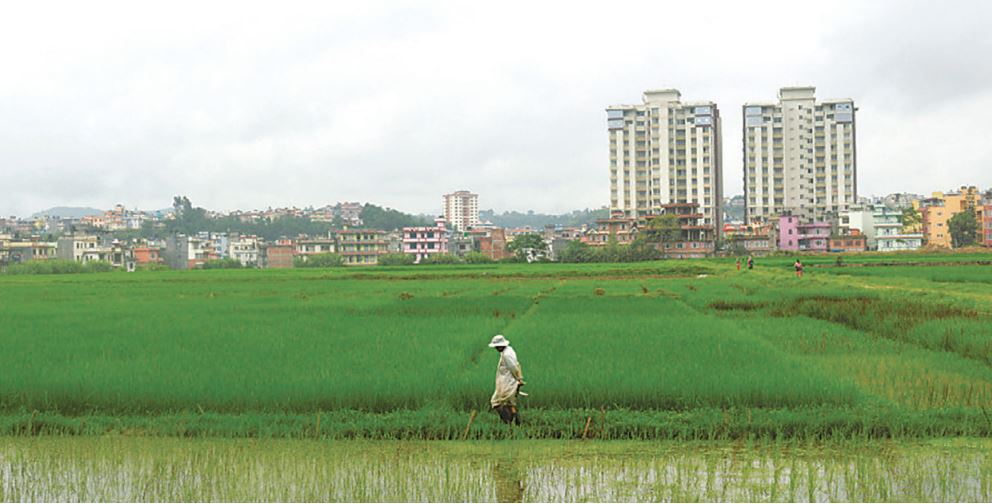 How remittances fuel agricultural risk and unplanned sprawl
The rich and pampered farmlands of Tarai, as the natives nostalgically describe it, are no longer a reality today.
Colorful concrete houses, some pink and blue, have gradually replaced the verdant farmland.
"Year after year, huge tracts of land are being converted into residential plots, and these plots are agricultural land," says Shyam Sah of Mukti Nepal, a non-governmental organization promoting safe overseas employment in Golbazar. , Siraha.
"Once an individual goes abroad, he mainly invests in land, after repaying his loans. Then they build a house. Construction work is everywhere and happening fast," says Sah.
Over the years, international migration in the form of foreign employment has been increasing from the Tarai Belt, which has subsequently increased the economic capacity of migrant worker families.
The high source of income has thus contributed to the rapid urbanization of the region. Arable land is rapidly turning into lucrative plots that fuel agricultural risk.
"Over the past ten years, about 99% of those who migrated abroad – to Doha, Qatar, Malaysia and Saudi Arabia, among others – moved to cities and built homes in concrete," says Saroj Kumar Thakur, Golbazar branch manager. of Kamana Sewa Bikash Bank Ltd in Siraha. "Their families work in the agricultural fields and their earnings are used to pay daily expenses and foreign employment savings are used to build houses."
Many residents of Tarai opt for Gulf countries for lack of better opportunities in Nepal. Obtaining a passport remains the top priority and policy changes over the decades have facilitated the exodus of the working population in staggering numbers.
According to labor and migration expert Ganesh Gurung, two policy changes have radically changed the trend of foreign employment in Nepal. These changes directly alter the agricultural landscape.
The first policy change came in 1991 when the government decided to provide passports to everyone, but could only be acquired in Kathmandu, according to Gurung.
"Then, in 2001, a new policy allowed people to obtain passports at their home district headquarters. This has greatly increased the Nepali public's access to passports, especially for residents of the Tarai region," Gurung adds. "People in Tarai have started to prefer Gulf countries over India for better salary."
According to the Nepal Labor Migration Report 2020, Madhes province (the 8 districts of Tarai) alone accounts for 24.2% of total migrant workers.
Province 1 and Lumbini Province have significant proportions of foreign employment, accounting for 24.4% and 16.8% of total migrant workers respectively.
With the outflow of migrant workers began the flow of remittances to Tarai, and consequently urban sprawl.
Nepal has received approximately $8.1 billion in 2020, or 28% of the country's GDP. In total, 55.8% of the total number of households in Nepal receive remittances.
As locals have observed, after repaying loans and emigrating internally for better education and health opportunities, families of migrant workers prioritize investments in real estate.
"Once farmland is developed for residential use, its prices skyrocket. Thus, residential land and houses become a means of financial investment here," says Sah, commenting on the rapid changes in Siraha.
Before the migration of foreign employment to the Tarai region in 1989, the urban coverage occupied only 221.1 square kilometers.
By 2016, it had grown by 320% to occupy a total area of ​​930.22 square kilometers.
Urban coverage has expanded into cultivable land that was previously used for agricultural production.
Known as the breadbasket of Nepal, the majority of agricultural production takes place in the Tarai. Cereals grown in Tarai contribute 56% of the total national cereal production, and rice and wheat produced in the region alone account for 70% of cereal production in Nepal.
New urban coverage added from 1989 to 2016, 93 percent were once cultivated.
Experts say that the loss of agricultural land over the years has resulted in the increase in crop imports over the years. The lack of urban planning policies, particularly in the Tarai region, is felt in the economy, the environment and agriculture.
"The biggest threat to agriculture in Nepal is the conversion of fertile land into residential plots. Our trends in agricultural imports show a drastic increase over the years, due to declining agricultural productivity in Tarai," says Punya Prasad Regmi, Agriculture and Policy Expert at the Nepal Agriculture Research Institute. development.
Agriculture contributed about 33.18% to the national GDP in 2010, while in 2020 it fell to 23.13%.
A rresearch shows that nearly half of all urban expansion in Tarai occurred between 2006 and 2011, covering an area of ​​305 square kilometers.
In Tarai, the annual rate of urban growth during the period 1996-2001 averaged 8.09%. Since the increased access to passports and the dramatic increase in foreign employment, the average annual rate of urban growth has increased to 12.61% from 2011 to 2016.
According to the preliminary results of the 2078 national census, 53.66% of the total population lives in the Tarai region, which occupies 17% of the total land area of ​​Nepal.
Population density is high in Tarai, making urbanization inevitable, experts say.
The lack of concerted management of urban growth has led to a loss of agricultural land compared to historical trends, which has led to massive imports of foodstuffs and crops.
"If we don't have fertile land, where will we farm? If we want to preserve Nepal's agriculture, we will first have to save our land," says Regmi. "Look at our import statistics; this clearly shows how our agricultural productivity is declining.
In 2020-21 alone, Nepal imported 1.2 million tons of rice worth $402.91 million.
Compared to imports in 2019-20, Nepal's imports of agro-food products from India increased by 38.9% in a single year in 2020-21.
Over the past decade, Nepal's agri-food imports have increased by 420.3%, making it an emergency in its own right.
Agriculture experts say such a dramatic increase in food imports is indicative of declining agricultural productivity in Nepal.
Declining productivity can be attributed to insufficient land for agriculture, as well as lack of human resources, insufficient public investment, insufficient irrigation infrastructure, poor marketing agriculture and zero-tariff policies, and climate vulnerabilities, they say.
Experts say that while the policies are sound on paper and aim to protect and prevent farmland, failed implementation, poor urban planning and myopia have caused farmland to be lost.
"The law states that fertile land cannot be used for residential purposes. However, whether in rural municipalities or urban villages, houses are being built on farmland," says Jagat Basnet, a land rights activist at the Community Self-Reliance Centre.
The Ministry of Land Management, Cooperatives and Poverty Alleviation introduced the Land Use Policy (LUP) in 2015. Although the law is progressive on paper and states that arable land cannot be used for residential purposes, the law has not been implemented.
"There are no guidelines for applying the laws. And even if the government could introduce guidelines, I doubt the law will come into effect," Basnet says.
Residents are constructing houses in accordance with the National Building Code of Nepal, on agricultural land where the Land Use Act 2019 prohibits construction of houses.
Experts call for thorough research, urban planning policies, local government capacity and the encouragement of community-centered decision-making to prevent further loss of farmland.
"There are different ministries that should work together in this sector – Ministry of Spatial Planning, Ministry of Urban Development, Ministry of Federal Affairs – for integrated development. But the most important thing is that local governments must be technically capable of carrying out the works," explains Pragya Pradhan, urban planner and head of the Habitat program at UN-Habitat.
Amid the lack of policies to effectively plan urbanization in farming communities, village centers such as Golbazar, Siraha are experiencing rapid urbanization.
"The local level has not classified the land as agricultural or residential. No plan has been put in place to deal with urban sprawl in Siraha," says Sah.